A friend and former colleague of COMMITTED's Education Program Director
Dorje Gurung
Emily Adams accompanied him to Thangpalkot last week. During the visit, Emily inspected the ongoing projects and also conducted an impromptu art activity for the students of Shree Raithane School.

Reproduced below is a reflection of her visit.
After 4 hours on a bus from Kathmandu and a three hour hike, I arrived to the village of Thangpalkot. The village was surrounded by beautiful, lime green rice-filled terraces, the sound of streams running to a nearby river, large forested hills and clouds that almost felt like you can reach out and touch them. I had the fortune to trek to Thangpalkot with two locals and the Education Program Director for the NGO COMMITTED, Dorje Gurung. Upon arrival, I explored the projects COMMITTED has been implementing to improve the quality of education at the local school, Raithane. This involved additions to the school itself, including a science lab, library, play area and two new buildings. I was also impressed to visit lakes in this village that COMMITTED has been working with to create self-sustaining fisheries, which will ideally help the school to maintain financial needs in the future.
On my second day in Thangpalkot, I spent time with a woman I trekked with studying in Kathmandu, who was visiting her home in the village on holiday. Her name was Padma. She was full of energy and excitement at the recent developments COMMITTED has implemented in her village, claiming the number of likes her facebook images of the newly implemented fisheries has received. Little did I know on our trek that she would become a translator for me for an impromptu art lesson my second day. I asked her to gather any kids in the village who were interested in an art lesson of any age or gender. She did an excellent job gathering 27 smiley, happy kids eager to learn art. We filled the new library in Raithane with children ranging from three to early teenage years.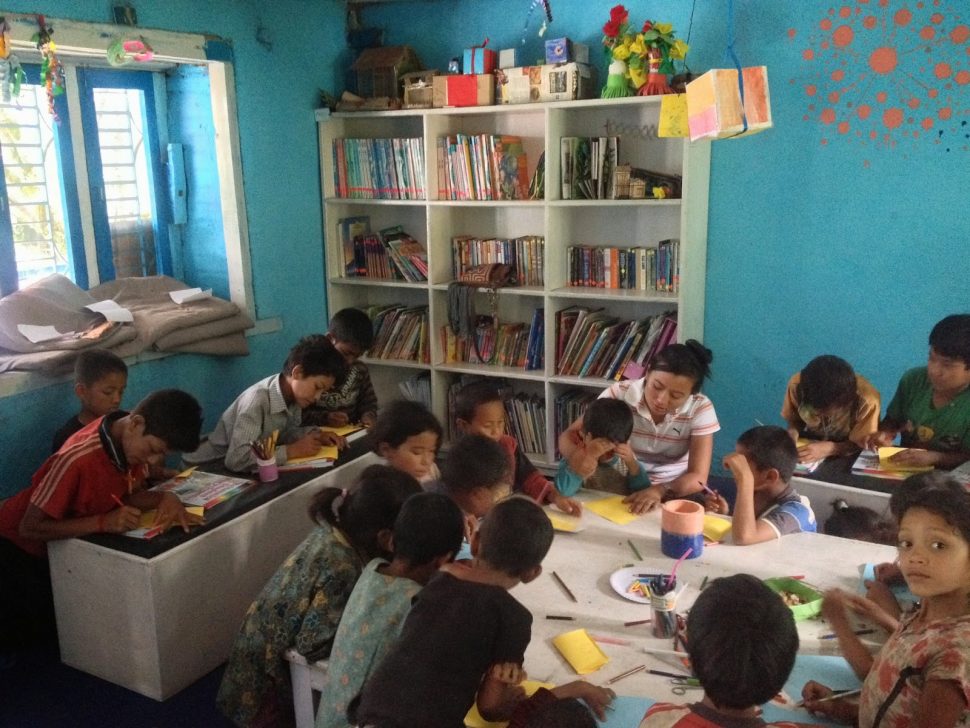 We created three art projects. The first was a warm up to get kids feeling comfortable. They played an art game, drawing a head, hiding their art and passing around their paper to other people to add to it without looking at the original drawing. This quickly turned into loud laughter and kids exhibiting their strange creatures to friends. Nearby local families became curious at this burst of joy and faces could be seen shortly after peeking through the window and doorway in wonder. Our following artwork was a self-portrait, where kids practiced drawing the different features of their face, taking notice of proportion. At one point, kids were asked to look closely into the eyes of their friends, noticing that we each have a pupil in the center of our eyes. This, as you can imagine, made some embarrassed, others laugh and a handful fascinated at this realization. Lastly, we created a still life of flowers, drawing a range of different types of flowers. At this point the older students gained confidence and drew some beautiful local flowers that can be seen within the village. Throughout the entire 90 minute lesson, the students were enthusiastic, kind and engaged.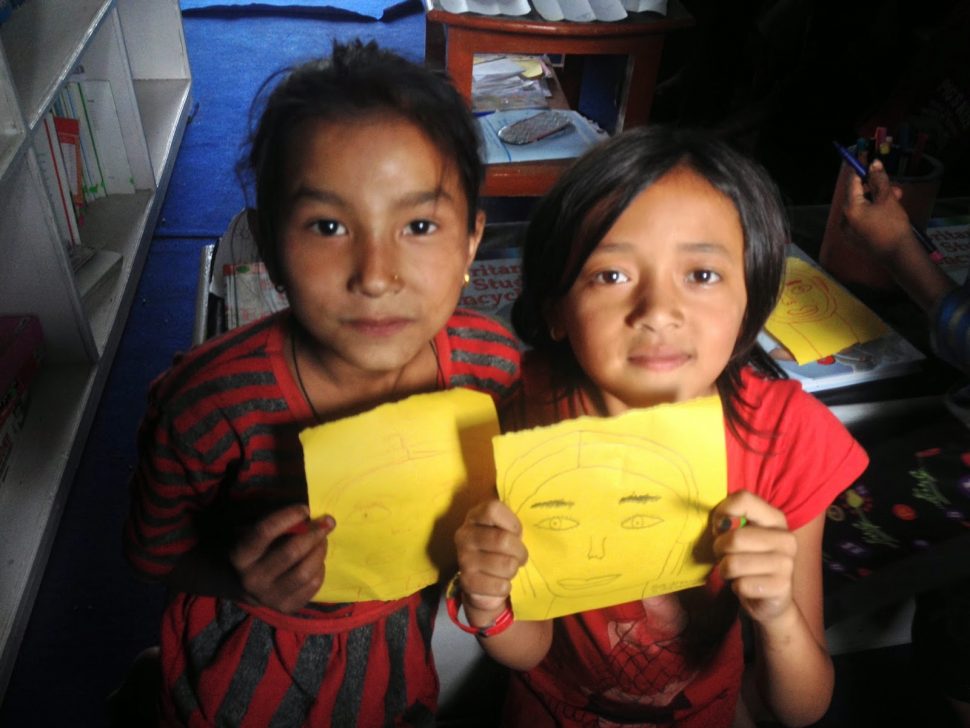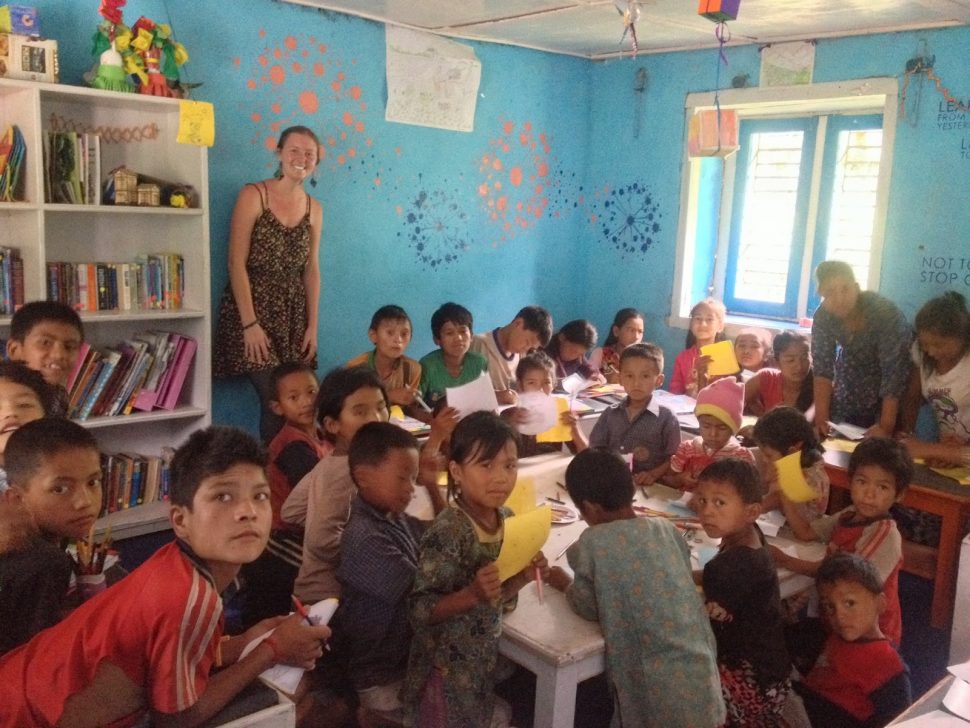 Teaching the art lesson was an inspiring experience and a wonderful opportunity to connect with local kids in the community. It was evident that the kids I worked with loved making art, using their hands to create images and were proud of their results. They were respectful, thanking me as they left the lesson. I felt a sense of wonder at what it might be like to teach at their school and what life would be like to live within their community.
Thangpalkot is a lovely village, where I could not be distracted by wifi, people work hard in beautiful fields, drink social teas and kindly greet foreigners. Sitting on a hill with locals watching the boys play football under prayer flags in the field below until sundown became a relaxing pastime. I was moved to see the hope of the local people that COMMITTED is helping provide, both young and old, for the future of their community.
Emily Adams
Visual Arts Educator