In Blog
How the Earthquake severely affected Raithane Secondary School
The powerful 7.8 Richter scale earthquake that struck Nepal
on April 25th, 2015 and its recurrent aftershocks severely damaged Shree Raithane
Secondary School in Thangpalkot VDC, Sindhupalchok district. Of the 18 total school rooms of
Raithane School, 11 have been completely destroyed. The remaining 7 are also
partially damaged. After the devastation met by schools because of the
earthquake, the District Education Office Sindhupalchok assigned COMMITTED as
one of its partners to help rebuild schools in Thangpalkot VDC.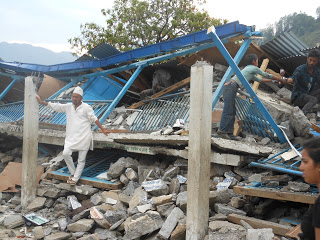 The earthquake ravaged Shree Raithane School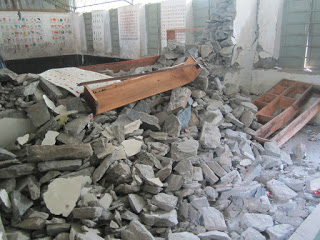 The classrooms that were reduced to rubble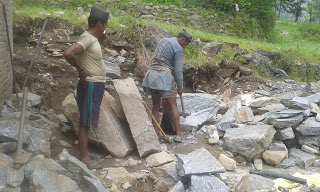 Debris clearance
Due to the earthquake, classes were disrupted for over a
month. Working together with the Nepal Army, the School Management Committee, school
teachers, and local residents COMMITTED established Temporary Learning Centers
(TLC) on school grounds. Classes have been running in the TLCs since May 31. The
school had been torn down to rubble and needs to be built from scratch. With
the support of the funds given by Western Union we have completed the debris
clearance and land stabilization activities which is crucial before rebuilding
the school.
The collapsed weak
structures were dismantled, the debris was cleared up by employing workers and
the scattered stones of the rubble were used to make gabion boxes.  These gabion boxes have been used to level up the slopes near
where the school stood. Since the land was slanting a little, these boxes have
helped in stabilizing the land before construction of a new structure takes
place there.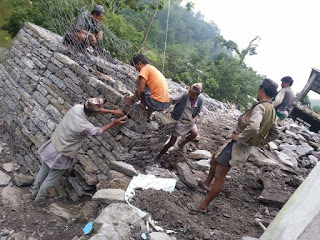 Workers making the Gabion Boxes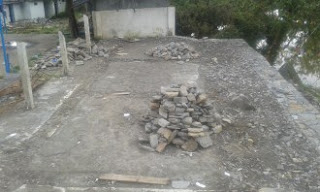 Land stabilization
Sadly, we still have not been able to raise enough funds yet to rebuild
the school and are looking for contributions. Please support us and help us rebuild
Raithane Secondary School by pouring in contributions by going to this link http://cminepal.org/how.php#secFour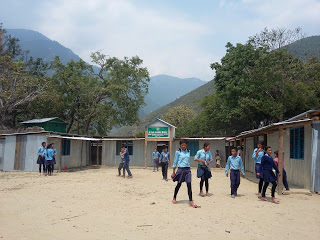 The TLC of Raithane Secondary School