The launching, in June 2017, of a new sub-national governance program in collaboration with The Asia Foundation (TAF) marked another milestone in the expansion of COMMITTED. Titled, 'Enhancement of Local Government Service Delivery and Economic Governance (EnLoG-SDEG),' the project is funded by Australian Department of Foreign Affairs and Trade (DFAT) since improvement of governance and policy implementation is one of Australia's several development assistance deliverables in Nepal. Thus, EnLoG-SDEG program is COMMITTED's joint collaboration with DFAT-TAF partnership that will work to build the capacity of several municipalities all over the country.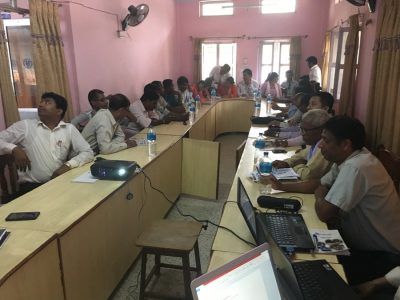 Local representatives with COMMITTED team members during the interaction program at Ramgram municipality.
Reproduced below is the DFAT overview of the program as it appears on their web site.
"Effective and stable governance that delivers services effectively and equitably across the country continues to be a challenge for Nepal. Helping to improve governance and policy implementation is a new objective for Australia.

"Over the course of 2017 we will develop a new program of support that focuses on promoting an enabling environment for strong, effective, and inclusive sub-national governance. We will help sub-national levels of government to improve service delivery and economic governance which will contribute to inclusive local economic development and poverty reduction. Where possible, we will encourage strengthened disaster risk governance policies, systems and processes. This is a large scale and long-term agenda which will require flexibility in order to respond to opportunities and constraints associated with the volatility of Nepal's political processes. Technical assistance will also be utilised to meet identified gaps, especially if proposed changes to government structures and the constitution occur. This assistance will be targeted and flexible, responding to demand at the sub-national level."
The EnLoG-SDEG program's first phase seeks to involve newly elected representatives including the mayors and deputy mayors for a strong internal and external governance and development of their municipalities. The long term goals of the multi-year project are to:
Assist the municipalities with the development of their municipal profile;
Assist in developing comprehensive plans for their development and urban service deliveries;
Help municipalities raise own source revenue to meet planned goals; and
Assist in the service delivery of improving the education system.
In line with the aforementioned activities, COMMITTED's team of urban planners, governance, finance and M&E experts took the first field visits of the program starting on August 1. Accompanied by TAF's team, COMMITTED's team conducted meetings and discussions in 18 of planned 22 municipalities. The interaction was based on various issues such as the vision and promises made by the elected officials in the pre-election phase and how they were considering gathering the resources to fulfill promises made, along with gender and social inclusion activities, development of infrastructure and services such as education, health, sanitation, transportation, drinking water facilities etc.
The team managed to pull through the 18 locations during the monsoon rain, despite facing landslides and floods as well as accommodation problems. After surpassing the 18, COMMITTED will be visiting the remaining four municipalities of Province 1 and 2 in November.