Inu
Pakhrin, a student of Taltuleshwory school shares her experience of the Star Writer
Program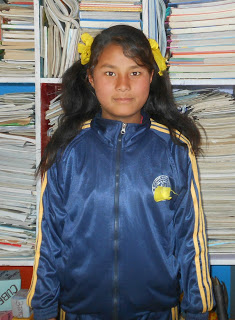 Inu Pakhrin, aged 12 studies in
class five in Shree Taltuleshwory School, Thangpalkot VDC, Sindupalchok. There
are five members in her family including her mother, father, and two sisters,
one elder to her and the other younger than her. Her parents work as farmers in
order to earn their livelihood. Inu shared her experience of participating in
the Star Writer Program organized by COMMITTED. She expressed that she really
enjoyed reading 'Treasure Island' the story book that their class had been
assigned and that her favorite character in the book was Jim Hopkins. She
shared that she found the program quite interesting as this was the first time
that she had participated in such a program. She was happy that she got the
opportunity to read a story book written in English guided by her English
teacher as she used to read only Nepali story books earlier on. She said that
from now on she would visit her school library more often and try to read other
story books written in English.
Since before this she had not
read an English story book completely, Inu shared that she found a lot of the
words and the sentence structure in the book quite difficult to understand. She
was advised to get a dictionary to help her find the meanings of the difficult
words and now she has been continually using it. She spends her spare time in learning the meanings
of different words and its pronunciation. She feels that students get
encouraged to develop the habit of reading through such a program and is glad
to have been a part of it. The book report written by Inu after finishing
reading Treasure Island was also chosen as one of the best book reports in the
class by her teacher. Kudos to this star reader!