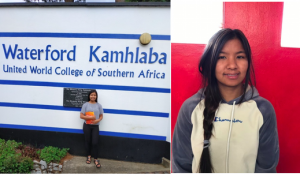 About Sayana Lama
Sayana is currently a first year student in United World College Waterford- Swaziland, who comes from a village in Sindhupalchowk District in the northern hill region of Nepal. She, due to her family's challenging economic condition, was dropped out of school and came to Kathmandu, to work in a carpet factory as a child laborer. After working for a few years in the carpet factory, she was rescued by Nepal Goodweave Foundation (NGF) and went through the rehabilitation process along with her restoration of schooling gap. Sayana was found to be in risk of returning to carpet industry if she were to be reintegrated back with her family. Therefore, she was sent to Laboratory H.S. School in Kirtipur, where she started her formal education again but from grade 5. After completing grade 10, she went back to her village, but her family home had been destroyed by the earthquake, so Sayana and her family had to migrate back to Kathmandu.
In spite of having gone through such challenges in a young age, Sayana has succeeded well in the opportunities that were made available to her because of her resilience and hard work.
In alignment with COMMITTED's purpose of assisting underprivileged children with their education needs, we are conducting a fund raising platform to support Sayana Lama. COMMITTED is not related to UWC in any way in its decision in the selection of Sayana as a recipient of the scholarship and any other areas leading to the modality of donation collection, transfer, and her achievements in the future. Therefore, COMMITTED's sole role is to assist Sayana by helping her raise funds through its PayPal account.
Please Donate to Sayana Lama and help her complete her education!