In Blog
Reconstruction of Taltuleshwory School – Rekindling the spirit of the children
Shree Taltuleshwory Primary School was established
in 2052 B.S in Thangpalkot VDC, Ilaka 12, Ward no. 3 of Sindupalchok district. We
have been supporting this school through our School Improvement Plan since 2011
A.D. The powerful earthquake that hit Nepal on the 25th of April and
the recurrent aftershocks severely damaged the school.  Since it was a Saturday, thankfully there were
no children and teachers in the school. Due
to the earthquake, classes were disrupted for over a month.
For the 176 students of
Shree Taltuleshwory School, life was never the same again after the earthquake.
Most of them lost their homes due to the devastation and are now living in
temporary houses made up of wooden frames and CGI sheets. In Thangpalkot Village Development
Committee (VDC) the death count was 45 which included 11 students and 2
teachers. Some of these students were from Taltuleshwory
School.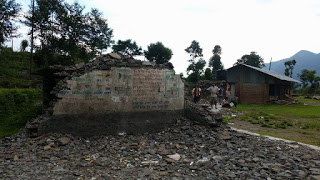 Since the school structures including
the class-rooms and other critical facilities were destroyed, the children and
the teachers were hesitant to return to classrooms. Hence creating a conducive
environment for the children to return to the classrooms
was very critical. Temporary Learning
Centres (TLCs) were constructed for the schools where classes are being run since 31st
May, 2015.  The construction
of a new and permanent structure for the school is now underway and is going to
be complete by March.   We are hoping that
this effort will rekindle the spirits of the little children and give them a
sense of security. It has been really long since these students have been
attending classes in the TLCs and a newly constructed earthquake proof school
structure would mean a lot to them. With the generation of additional funds we
are also going to add a dining room and a playground for the children.